Water Conservation (Faucet Drips, Toilet Leaks)
SummerRidge has contracted with H2Options to provide free repairs for dripping faucets and leaking toilet tanks*. These repairs are no-cost upfront to the homeowner.
Call H20ptions at (703) 242-2201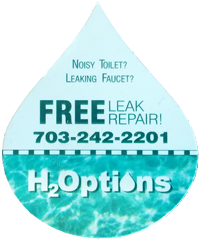 *Generally speaking, they are contracted to repair water conservation plumbing problems at the point-of-use that save the community on our water bill. They do not repair plumbing problems that deal with drainage or in-wall pipes. Contact H2Options for specific repairs that are no-cost to the homeowner.
General Plumbing
These are a couple of plumbers that SummerRidge has hired in the past and have worked on our property. SummerRidge does not recommend any specific plumber, you may hire any plumber you wish to work inside your unit as long as they're licensed and insured plumbers.
Kiddco (703) 435-4441
Around The Clock Plumbing (703) 791-6519